Welcome
Welcome to the
IslesMC Store!
---
Attention
Before completing your purchase, please check if your username is correct and that your basket is correct.
Please note that purchases can take up to 15 minutes to go through
If a purchase has not gone through after 1 day has passed, contact: support@islesmc.com
It is advised to be online while purchasing your product.
---
Terms & Conditions

By buying any package from our store you automatically agree to our Terms & Conditions. Failing to do so will prevent you from buying from our store. Any purchase is final and you will not be refunded if you are banned, etc. Chargebacks will result in you being permanently removed from our server(s) and will remove all packages bought. All ranks that has been bought will last as long as the server is up, they are until then lifetime ranks. 
Our Terms & Conditions may change at any time, with or without the approval of the customer.
---
Privacy
Personal information that is submitted when purchasing from our store will always remain private, away from public eye. We will not under any circumstance sell or redistribute the infromation submitted to anyone.
IslesMC is in no way affiliated with or endorsed by Minecraft, Mojang or Microsoft. Please do not contact them about any purchases as they are to no help for you.
Recent Payments

Top Customer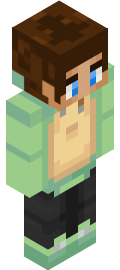 Daanontje
Donated 40.63 USD this month.